Among the few dissenting voices from the BJP in Gujarat, Dr Kanubhai Kalsaria's is one of the most respected. So much so, the BJP has chosen not to act against its former MLA from Mahuva despite his fierce criticism of the government's land acquisition policies and his contesting assembly elections as an independent. A practising surgeon, this politician-activist has been leading a campaign against Nirma's cement plant in Bhavnagar district. He's also against Maruti's proposed plant and the state's SIR policy. Excerpts from an interview:
Has the BJP paid a political price for its development model?
Narendra Modi has been showcasing Sanand (where Tata has its Nano factory) as a success story, but his party lost the assembly elections there. In nearby Vira­mgam too, the BJP lost. This is because farmers' interests have been harmed.
The government was acquiring land from 44 villages for an SIR. Now, 36 villages have been excluded. Is this a big victory?
It is undoubtedly a victory, but not entirely. Eight villages still remain under the Mandal-Bechraji SIR. If the SIRs and the Act that all­ows for them aren't remo­ved, they could take over other villages. I'm not against industry. How can I when I use a Maruti car and surgical instruments? What we are against is ind­u­strialisation at the cost of farmers' livelihood.
What is the problem with the Nirma cement plant?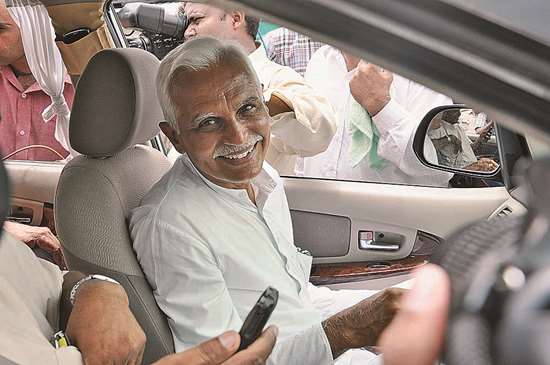 Nobody can imagine the injustice being done to farmers there. Why would the government want to give away water they use and fertile land they own to a cement plant? The company and the government hid this fact and called the area a wasteland. Two official committees have also suggested otherwise. Even a senior MLA like me was kept in the dark. I found out only when I was asked to come for a commencement function. Officers said they were instructed to ensure I never found out. Since then, I've opposed the plant.
You have got no support from Modi?
He has praised me in the past but refused to meet me initially on this issue. When I did, and told him the problems with the Nirma plant, he said I was hassling him when it's his administration that is hassling farmers. He even asked me to give up my campaign in the name of development. I quit the party. He thinks I'm another Medha Patkar. Till Modi's administration is in place, I don't see any hope of justice.
Why has the BJP not acted against you?
You should ask the BJP. What's known, though, is why I am against the party—its anti-farmer and anti-poor policies.