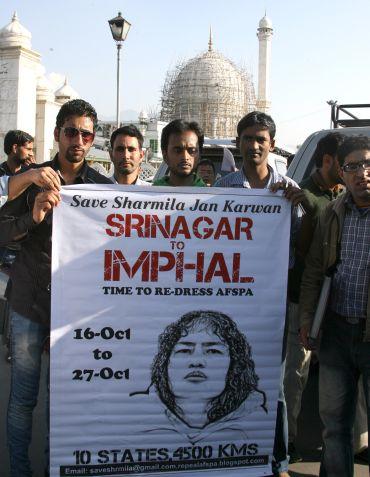 Srinagar
The anti-Armed Forces Special Powers Act (AFSPA) Srinagar-Imphal yatra took off from capital Srinagar on Sunday afternoon with prominent social activists in the lead.
The yatra would conclude at the Jawaharlal Nehru hospital Imphal on October 27 – where activist Irom Sharmila is admitted – after traversing a distance of 4500 kms.
Irom Sharmila, a civil rights activist has been on a hunger strike since November 2, 2000, demanding the repeal of AFSPA.
Noted social activist, Medha Patkar, Dr Sandeep Pandey, Magsaysay awardee, prominent activist from north east Babloo, Faisal Khan, leader of the National Alliance of People's Movement, Irom Singhjhit, the brother of Irom Sharmila, Engineer Abdul Rashid, local independent MLA were among the 25 people from various states who joined the yatra.
The activists earlier visited the historic Hazratbal shrine to offer prayers 'for justice and peace'.
While addressing a rally at the Srinagar press enclave, Medha Patkar said that 'we will continue our fight till AFSPA is withdrawn'.
"We are against violence as it doesn't solve issues that can be only resolved through dialogue," she said.
In his speech, Faisal Khan said that 'the main objective of the yatra is to generate public opinion about the sufferings of the people affected by AFSPA'.
"We believe that there is no place for such laws in a democracy. We are against violence in any form. These laws are not only dangerous, but create a rift between the public and the administration," Khan said.
http://www.rediff.com/news/slide-show/slide-show-1-prominent-social-acti…